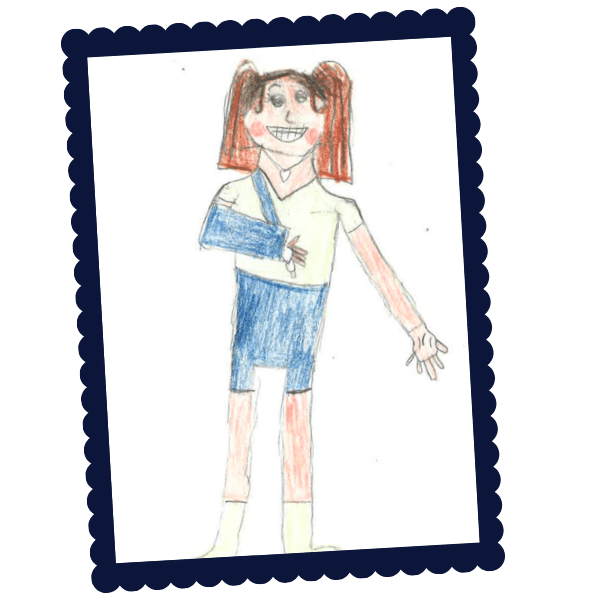 Matilda's Story


"We were out for our daughter's 9th birthday dinner, and she slipped over and broke her arm.
"She was in so much pain. We took her to The Prince Charles Hospital's Children's Emergency Department, and we had a great experience there.
"The staff were very quick to attend to her, ease her pain, and make her feel more comfortable.
"It's certainly a birthday we will never forget, and we are very grateful for the care and compassion we received that night.
"It made a rather traumatic and stressful evening a lot more bearable for a very upset little girl and her stressed-out parents," Matilda's mum said.
Florence's Story


"Our daughter hadn't been well, experiencing raging fevers for five days and nights with no respite. One Sunday evening, she really took a turn, and after calling a telehealth service, they recommended that we take her to the hospital.
The staff at The Prince Charles Hospital were so attentive and empathetic, taking the time to listen, ask lots of questions, and organise some really thorough tests.
We've lived locally for close to ten years, and since our daughter was born six years ago, we've realised just how lucky we are to have such an exceptional hospital with a Children's Emergency Department in our community.
We've only had to use our local hospital twice, but there's a real peace of mind knowing that The Prince Charles Hospital is there when we need them," Florence's father said.
Lachie's Story


"Little Lachie accidentally tripped over and fell into a table, hitting his head and splitting open the skin near his right eye.
I couldn't get him into the GP in the following few hours, so I travelled to the Emergency Department at The Prince Charles Hospital.
He had the wound washed out initially, and he was screaming so loudly - I thought the whole hospital could hear him. The ED doctor said Lachie needed stitches, but fortunately, the hospital's Child Life Therapist was there to distract him and calm his nerves.
We were in and out of the hospital in a couple of hours. We didn't need to be at the hospital longer than we needed to be. The Child Life Therapist is amazing." Lachie's mother said.
Abagail's Story


"Our daughter has had a pulled elbow twice now, first time at daycare and the second whilst playing in the park.

I was pregnant both times which added to the stress of it all. We came in with a very upset little girl who was in a lot of pain, and then left with a kid who was immediately back to her usual happy self, requesting a burger for dinner and a play on the scooter!

The staff were lovely and very comforting. We were seen and sorted very quickly which was much appreciated….thank you for all that you do here and the care that you provide," Abagail's mum said.